HOSPICE & PALLIATIVE CREDENTIALING CENTER

Situational Judgment Exercise
In order to purchase HPCC's Situational Judgment Exercises you must be signed in to your PSI Online Store account with an authorized email address. If you are unable to login to a customer account, please contact HPCC for assistance.
Sign in to your PSI Online Store Account

Authorized test takers will have had an account created on their behalf by HPCC administrators using the email address on record with HPCC. If you are authorized to take an HPCC SJE, you may login with your email address and temporary password to sign in to the PSI Online Store. All candidates will be assigned the same temporary login password: Temporary123 Note: You are encouraged to change your password after you sign in the first time.
Upon successful login, you should be returned to this page and should see "My Account" where you saw the "Sign In" link before. Once signed it, go to Step 2.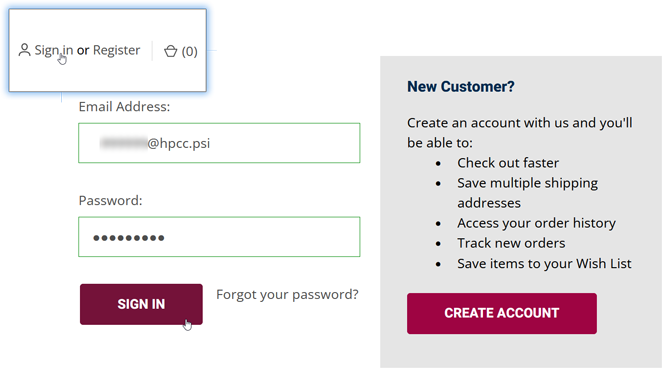 Select Your SJE and Purchase
After you've logged in you will be able to access and purchase the Situational Judgment Exercise assigned to your account by selecting the appropriate SJE from this page. Note: you will only be able to access the SJE for which your account is authorized. If you are unable to select the SJE you believe to be correct, please contact HPCC to verify your authorization is correct.
After your transaction is complete, you will receive two emails from PSI:
Order confirmation: this email is your receipt.
SJE access code: this email will include instructions for accessing and completing your Situational Judgment Exercise.